Grace Simon, now the community liaison with ExxonMobil Guyana, says her passion for helping people is what her motivated to pursue studies in areas that help people.
Simon nee Roberts, 52, She is the holder of a Bachelor's Degree and a Master's Degree even though she had not the requirements needed to gain entry to a university when she left high school.
"I am the last sibling and the only one to have gone to high school, to university and the only one to receive a Bachelor's and a Master's…," she said adding, "Who would have thought that from coming from Dolphin Community High School , I would have ended up at a prestigious university with my late blind grandfather words still ringing in my ear, 'You passed. You passed.' When in reality I had failed at the common entrance exams," Simon told Stabroek Weekend during a recent interview.
Prior to joining ExxonMobil in 2021, Simon, the holder of a Bachelor's Degree in Social Work from the University of Guyana (UG) and a Master's Degree in Heritage Education and Cultural Heritage Management from Newcastle University in the United Kingdom, was employed with Iwokrama International Center for Conservation and Development (IICCD) as the manager for community relations.
She had previously worked for the IICCD as a research assistant in the social sciences department during the latter half of the 2000s.
"Returning to Iwokrama in 2009 and to the North Pakaraimas was like returning home. Those places hold a special place in my heart. I was all excited to be reconnected with the communities and to conduct outreaches in the 20 communities I had previously worked in for both Iwokrama and a cooperation development program funded by the Department For International Development (DFID)."
It meant, she said, reconnecting with nature and heritage and reconnecting with the people who gave her the opportunity to pursue higher education and sharing with them newly acquired knowledge.
"If it wasn't for working with them, I would not have been recommended to do the Master's Degree. They imparted their knowledge and taught me many things about our Indigenous way of life."
Speaking about her childhood, Simon who takes the Lokono (Arawak) name Sabanto Tokoroho, which means "beautiful and lovely flower," was born at Kabakaburi, Region Two Pomeroon Supenaam.
"I was as free as a bird in the wild. My parents were great farmers and I enjoyed going to the farm with them. We had a lot of bitter cassava, watermelons, pineapples, sugar cane, among other crops. One of the most beautiful things was a 20-to-30-minute walk in the backdam from Kairuballi Hill over a swamp to get home. I enjoyed drinking the cool fresh swamp water. We never got sick from it."
Her favorite meal was freshly cooked haimara in kadakura (the cream taken from the cassava water when boiled) with freshly baked cassava bread.
Even though she sometimes "caught up with a friend and got away from school to go fishing", Simon said, "It was fun to travel by speedboat or canoe to go to school. Coming home in the afternoon after school we would swim half way and paddle the rest of the way home. Plunging from the branches of trees into the river was fun and at weekends or after school, we took long baths at the creek until we shivered and our toes got blue."
The last of six siblings, she said, living and having to share things in a big family that included children and nephews taught her and her siblings to care and love each other.
Growing a thick skin
After she wrote the common entrance, she was given a place at Anna Regina Community High School on the Essequibo Coast but took a transfer to Dolphin Community High School in Georgetown on the recommendation of the head of Kabakaburi Primary School.
"Initially, I never thought about an education. I was just happy being with my older sister who was living in town. My first days at Dolphin's were not pleasant. No one prepared me for being called all kinds of derogatory names because I was a little Amerindian girl. They called me names that could have lowered my self-esteem at that age but instead they caused me to grow a thick skin and I made up my mind to do well at school. I was glad there was a boy from Jacklow, Pomeroon who also faced the same challenges and I think we gained strength from each other."
During one school holiday, her mother told her to either chose education or become a farmer. She took her to the farm to reap the cassava root and then grate them. "She told me I was not grating fast enough. I kept grating my fingers. She was testing me."
Simon wrote and excelled in the Secondary Schools Proficiency Examinations Parts I and II and completed her studies at Dolphin as one of the most outstanding students in her batch.
"Those examinations could not take me to the UG. So I enrolled at Critchlow Labor College (CLC) where one of my teachers advised me to make plans for every five years for the things I want to do. I took his advice from him."
At CLC, she was successful in higher accounting and communication and effective speaking, which she pursued. To further equip herself for the world of work, she took a course in computer studies that equipped her with the basics. "Everything I learned in computer since, was self taught."
She tried some academic courses, which she failed but she never gave up. "All my sister told me was to make up my mind on what I wanted to do."
She then enrolled at a commercial school where she excelled in typing, shorthand and elementary English. "I started to feel good about myself again."
Her first job was as a typist clerk I at the Public Service Commission and after some time she wanted a change from "typing away my life and watching four walls."
She then worked as a cashier/receptionist that ended in a disaster which she does not like to recall. "That incident taught me self worth and the need to work to improve my Indigenous people and the down trodden."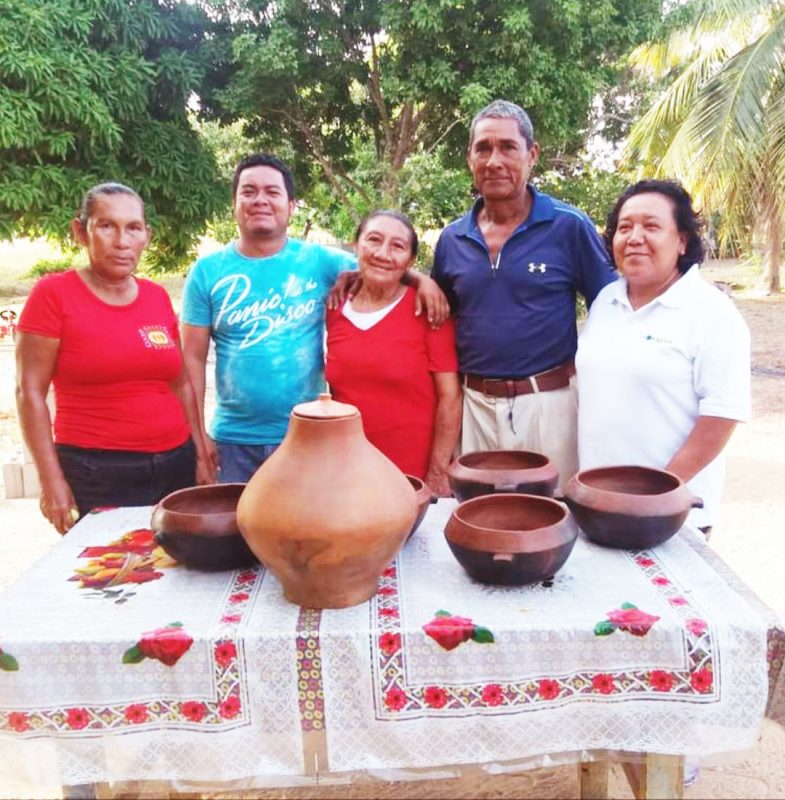 In the Pakaraimas
Following that incident, she did some volunteer work and eventually landed a job as an assistant field coordinator with a project that worked with the Indigenous communities in the Pakaraimas, Region Eight Potaro/Siparuni. "This was when I became aware of who I was and what I needed to do. I was learning about the cultures of our people that I missed over the years attending school in Georgetown. I am from a riverain area where I know about 'Wijili' an indigenous water spirit and I was working in the mountainous areas where I learned about Kanaima, an indigenous land spirit. I learned about so much that we ought to have valued and lost."
To access the villages under the project, Simon walked many thousands of days across hills and valleys. There were no ATVs to traverse the terrain in those days. The villages included Monkey Mountain, Taruka, Kamana, Kaibarupai, Kurukubaru, Kopinang, Itabac, Karisparu, Paramakatoi, Kato and Tusineng. Initially a resident from the area who was on the project with her also walked with her.
"After I had built a relationship with them and we trusted each other, I had lots of people who willingly accompanied me. I waited on them patiently because their time is important, especially when they are farming. While I was doing my work, I was learning new things."
She learned about the different types of food the people, mainly of the Patamona nation, made using the same ingredients as the Lokono people in the Pomeroon.
"I was introduced to farine and parakari (a cassava beverage). They used the same cassava water to cook their meat and fish but they used it differently from us. How they prepared their cassava bread is also different from how we prepare ours. They don't sift their cassava meal and their cassava bread is of a different texture to ours. How they prepare their meat is also different."
She continued, "I don't think Guyanese of other ethnicities understand that there are cultural differences between the different nations of our Indigenous Peoples. We have different ways preparing the same product."
After funding dried up on this project, Simon began her work as a research assistant with Iwokrama. Janet Forte, the then head of the Amerindian Research Unit, UG and Laureen Pierre advised her to enroll at UG as a mature student based on her experience of her. Pierre also assisted her on how to go about making an academic presentation.
"I never wrote any Caribbean Examinations Council exams. Vanda Radzik and Bonita Harris of Red Thread, with whom I was affiliated, also encouraged me and eventually I enrolled in the early 2000s and I graduated in 2005 at the ripe age of 35."
Before she started UG, she was required to do a presentation on her experiences working with the Patamona people. She subsequently shared the presentation on a certificate course on gender and development studies she undertook with The University of the West Indies.
She was working on the DFID funded project in the Pakaraimas when she started UG. When the program ended in 2004 she joined the IICCD as a research assistant in the social sciences department and was allowed to continue her studies for which she is thankful.
"One of the mottos of Iwokrama was that you 'Learn as you go'. I hold fast to that motto even though I am no longer there."
After leaving the IICCD, she did a one-year stint with Conservation International during which time she visited Masakenari, the home of the Wai-Wai nation. After that she held the post of project coordinator for projects in the Ministry of Health. That post dealt with health care for hinterland regions. She held the post for a year after which she took a break and freelanced.
While freelancing, she was preparing herself mentally to pursue a Master's Degree program for which she had been accepted but funding was an issue.
While trying to raise funds, she received a call from an IICCD manager who informed her that because of her work in the North Rupununi, she was recommended to do a Master's Degree at Newcastle University in the United Kingdom.
"She asked if I was interested. I never had an opportunity like that in my life and of course I grasped it right away. It was a blessing. I wanted a higher education but there was no way I could have paid for it. I was working part time with the Peace Corp."
In 2012 and 2013 she was at Newcastle University in England. "When I received my degree I was ecstatic and my mom and my sisters, who supported me, were happy about the level of education I had obtained.
empowering youths
On her return to Guyana in 2013, Simon worked at the Ministry of Culture, Youth and Sport (MCYS) as coordinator for the Volunteerism Support Platform (VSP) in the youth department working with the less fortunate youths who went to the VSP to acquire technical skills and to a lesser extent academics on training programs the department sponsored.
"Our volunteers didn't need a university degree to help the young people who came from varying backgrounds. We assisted them based on what they wanted to do for themselves and sought employment and provided recommendations where necessary," she said.
"The young people were my inspiration and my strength. I didn't mind working late hours to empower them in many ways but they never knew how much they empowered me as well."
When some of the young people felt they could not make it, she said, "I told them my life story and I told them if I could achieve this, you can, too."
Noting she never had a dull moment working at the MCYS, she said she was satisfied that she could have helped a number of young people, even if it was with a passage of money, money to buy food or even share her food with them. "They treated me with respect. When I hear of their achievements today, I am so proud and happy they believed in me and they believed in themselves."
At the MCYS she received an award for dedicated service. She remained with the ministry until 2018, when she moved to work with the National Toshaos Council, where she stayed for a year before returning to the IICCD.
Now employed with ExxonMobil and holding the position of community liaison, which speaks for itself, she said, "I have a passion for what I do and in this posting, I continue to make my contribution to the people through the company I now work with ."